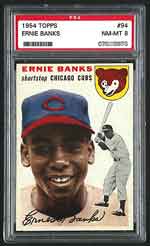 On a Saturday in March 2001 at the Sun Times show in Chicago, I traveled to have Ernie Banks sign my 1950s game-used bat. I personally feel that an autograph on a game-used bat will definitely enhance its value now and even more so in the future. An autograph puts that bat back in the player's hand and adds to the authenticity.
Ernie is known as a friendly autograph signer so I was planning on having him sign special inscriptions on my bat. After consulting with noted bat experts Dave Bushing and Dan Knoll, I was informed this bat was 1 of maybe 2 known pre-1960 Ernie Banks model bats. The bat was also checked against Louisville Slugger shipping records and found to have been ordered in both Banks 1958/59 MVP seasons. Comparing the labeling period, lengths, weights, and model number to the records proved this.
I purchased two autograph tickets, one for the bat and one for the inscription. I wanted Ernie to sign my bat as follows: Ernie Banks, My game bat, 1958/59 MVP, HOF 197, "Let's Play Two."
With a brand new sharpie in hand (so not to have a mushy signature on the bat which sometimes occurs when a player has been signing for 1 hour with the same pen) I advanced in line and began my meeting with Mr. Cub.
Ernie reached out for the bat and right away realized he was holding something different than the countless show bats and commemorative posters he had been signing that day. A magical look came in his eyes as he recognized the lumber in his hand as something that once belonged to him. He grabbed the bat by the handle and carefully inspected the knob. S2, the model number he preferred during the era, was clearly stamped. The bat measured his favorite 35" and weighed in at 32 ounces, just like Ernie wanted as he used this bat to compile his MVP numbers for the 1958 & 59 seasons.
Mr. Banks took the bat and put it under the table. He said it was his bat and he was keeping it. Then he told me I must work for the Mafia or the FBI, since those were the only two types of people that could have kidnapped his bat from him.
After a few smiles and a couple nervous moments, Ernie winked at me and began to sign the bat. While in the process of signing, Ernie stopped to swing a golf club, engage in three different conversations, and eat buttered popcorn. He would sign one word, then go onto one of his distractions. After spending five minutes on my bat, he placed the final inscription on the bat.
Without letting it dry, he immediately began to hand the bat back to me. He had the signed area facing me and began to push the bat in my direction. With a watchful eye, I could see the large, flawless Ernie Banks signature being shoved in my direction. It was like slow motion in a movie as I tried to avoid the oncoming disaster. I tried to move my hand down the length of the bat to an autograph free zone but the quicker I moved, the faster Ernie moved the bat to my hand.
With one final push, Ernie pushed the bat into the palm of my hand. I had waited two years for Banks so I could personally witness the signing of my bat and after 1½ seconds, the flawless autograph on my bat had been smudged to oblivion.
It was the first time during the show Ernie quit smiling after he realized what had happened. All was not lost, as I had experienced smudged autographs before.
I told Ernie I had something to remove the smudge and he agreed to resign the bat.
I went back to my hotel room and, with the help of Colgate toothpaste, removed the smudge. Believe it or not, toothpaste will take an autograph off the surface if it has been varnished.
Shortly after, I returned and Ernie resigned the bat as perfectly as before. I thanked him and, finally, I had the perfect autograph on a very rare bat. My collecting day was complete.