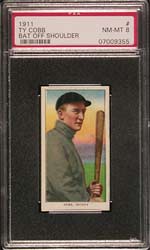 JO: When did you start collecting baseball cards?
BS: Basically, I collected as a child like many other collectors did. I started in the early 1970s and was very fortunate because, as my brothers and neighbors grew tired of their cards, they would give them to me. Pretty soon, I ended up with five Reggie Jackson cards, five Hank Aaron cards, five Willie Mays cards and so on and so on. After a brief period when I stopped collecting, I started once again in the early 1980s. I used the extra copies of my cards to finance the acquisition of other cards. If I had five cards of one player, I would keep the nicest one and use the others as trade bait. I started to go backwards in time. I would trade my 1970s cards for 1960s cards, and, before you knew it, I was trading those to acquire cards from the 1950s. I became very serious about collecting around 1988 or 1989, which is when I started collecting pre-war cards. I have been fortunate to parlay my childhood collection into my "shrine" so to speak.
JO: Today, what is the focus of your collection?
BS: At this particular point in time, my collection has become very focused. I currently collect Hall of Fame T206 and Cracker Jack cards in high-end PSA 8s. I am just infatuated with that era of baseball. The history and the stars of that era are really what interest me as far as those particular cards are concerned. There is just something special about that time period.
JO: I know it's hard to choose, but what are some of your favorite cards?
BS: I guess the pinnacle of my collection would be my PSA 8 1914 Cracker Jack Ty Cobb. Everything about that card brings about great feelings. The chase in acquiring the card was fun; Cobb was the greatest all-around player of his generation and the eye-appeal of the card is fantastic. The combination of those things is what really does it for me. Every card has a history and it is really fun to recall how I acquired different cards. First you have to find the card, then it has to be nice enough, then you have to negotiate a price, and, finally, you have to pull the trigger on the purchase. A few other favorites would be my T206 Walter Johnson (hands at chest), my T206 Cy Young (portrait) and my T206 Christy Mathewson (dark cap). They are all high-end PSA 8s.
JO: How has grading changed your approach to collecting?
BS: As I became more aggressive in my buying, trading, and selling, PSA was a great help. It was around 1994-95 when I was trying to upgrade my cards. I realized, after selling raw cards to dealers for years, that I could get much more for my PSA graded cards. There was no question that I could get more "bang for my buck" with PSA graded cards. The PSA graded cards were also much more liquid and that really helped since I was trading so often and had to keep my cards constantly moving. I wanted high-end cards, but assurance that the cards were authentic as well. PSA just gave me a real sense of security.
JO: What are your collecting goals for the future?
BS: My objective is to acquire any of the Hall of Famers, which I don't have already, in PSA NM-MT 8. I have a few cards of great interest such as a Tris Speaker and Grover Cleveland Alexander Cracker Jack cards, a T206 or Cracker Jack Eddie Collins, and a T206 Willie Keeler. One of the best parts of being a collector is developing the friendships with other collectors and dealers along the way; it's been a lot of fun.
If you have any of the cards mentioned above or would like to contact collector Bill Serrao, he can be reached at [email protected]