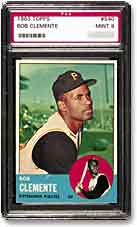 The numbers have changed but the result remains the same.
This may not be a surprise to those of you who keep a close watch on the hobby, but PSA graded cards continue to destroy all known price records for historically important cards. Within the last week, two quality auctions closed with many incredible prices to report. Mastro Fine Sports held their annual spring auction which brought in an overwhelming $5,840,000. PSA and PSA/DNA authenticated items had a lot to do with the success. The record breaking prices included a Babe Ruth/Lou Gehrig signed photo that sold for over $100,000! Wow!
Andy Madec also held a high-quality sportscard auction of his own. Madec's auctions may have only included 95 lots compared to 1200 lots in the Mastro sale, but his results were just as impressive. The highlight of the sale was the 1958 Topps Willie Mays graded PSA Mint 9. Being only one of two graded PSA Mint 9, this card brought in over $26,000! That is, without a doubt, the highest price ever paid for a 1958 Topps Mays. You can read full reports on both auctions by clicking on any one of these:

PSA and PSA/DNA Shatter Price Records at Mastro Auction
PSA Stars Shine at Andy Madec Auction
Andy Madec May Auction Prices Realized
Over the course of the last few months, there has definitely been a change in the market. For cards, the emphasis has been on rarity no matter from what era the card comes. In the past, the hobby made such a big deal out of the difference between cards produced pre and post 1960. Dealers and collectors alike would claim that cards made prior to 1960 were infinitely more difficult than cards produced later. That misconception is long gone.
Now, collectors don't seem to generalize anymore. While most 1950's cards are probably tougher to locate in high-grade than their 1960's counterparts, there are many examples that don't fit the stereotype. Collectors have taken notice and the prices paid for 1960's high-end examples don't lie. There are several examples of 1960's Mays, Mantle and Aaron cards that actually outsell the 1950's issues. Collectors are educating themselves about the true difficulty in acquiring mint examples from sets like 1962 and 1963 Topps.
In other instances, individual rarities are coming to light. For example, the 1966 Topps set really isn't considered a terribly difficult set to assemble in high-grade but try finding a mint example of the Aaron card. It is a very tough card. One just recently sold for nearly $10,000. Aaron's 1959 Topps card still hasn't reached that level yet and nor have some of his other 1950's cards. The key is that collectors no longer believe the old hype. Collectors are taking each individual card for what it is. If a 1962 Aaron is tougher to find in Mint 9 condition than a 1957 Aaron is, collectors are paying more.
This wasn't the case a year or so ago. There was a time, not too long ago, when dealers were having trouble moving 1960's material for premium prices. There was a perception that 1960's material would be showing up in huge boatloads at PSA and that Mint 9 examples would flood the market. That day is long gone. PSA has graded over 3 million sportscards so the PSA Population Report has become a very important buying and selling tool. The verdict is in; certain 1960's issues are very tough and even more so than some earlier issues.
I remember a 1964 Topps Mickey Mantle selling for just over $1,000 a couple of years ago. That card just sold for nearly $20,000! The same can be said for the 1963 Topps Mantle. Worth a few thousand in the mid-to-late 1990's, that card has also been sold for nearly $20,000 recently. Those numbers are not auction prices either! If I could only go back in time with some money, I would be a rich man. There are many other examples to look at, even in the 1970's. A 1971 Topps Aaron used to sell for around $500 in Mint 9 condition a couple of years ago. Now, that same card sells consistently between $2,500-$4,000. The list could go on and on.
The bottom line is that quality sportscards, no matter what era they're from, are selling at an incredible pace right now.
Another market trend that has been very noticeable is the premiums being paid for quality pieces of memorabilia. Like the high-grade sportscard market, the memorabilia market is starting to mature. With cards, collectors clearly recognize the difference in quality and rarity between grades. This is obvious when you look at the prices being paid for vintage NM-MT 8's and then compare those prices to prices being paid for Mint 9's or Gem Mint 10's. In some cases, collectors are willing to pay 10-25 times more than the "8" price for mint examples. Now that same trend is beginning to affect quality items in the memorabilia market.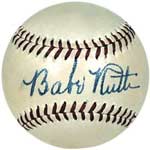 Until a few years ago, there wasn't a huge premium placed on autographed baseballs or game-used bats when the item exhibited a unique quality. For example, the price difference between what would be considered a "9" Ruth baseball and an "8" was not very significant. If a pristine Ruth ball was offered several years ago, the ball might sell for around $20,000 while an "8" or "7" ball would only sell for slightly less. Within the last year, three pristine single-signed Babe Ruth baseballs have sold for more than $50,000 with one reaching the $70,000 mark. In the same market, "8" or "9" Ruth examples have sold between $20,000-$35,000 and "7" Ruth examples have sold between $8,000-$15,000. The trend continues as we go down the condition list.
Collectors, after looking at the prices being paid, are now distinguishing more between quality levels. According to several market experts, this may be only the beginning. Many hobby insiders expect the memorabilia market to continue to follow the sportscard market's lead. There is no question that there is more subjectivity in the memorabilia market, but rarity and quality are usually easily detected.
You can see the same trend for signed photos, display pieces, game-used equipment and other areas of sport collectibles. Here are some more examples. Pristine, rare and interesting signed photos have really begun to separate themselves from the average ones. A spectacular signed Ruth/Gehrig signed photo just brought over $100,000 at auction. Within the last year, Ruth/Gehrig photos have sold anywhere between $15,000-$100,000.
Single-signed Ruth photos may be an even better example of the changing market. The price range on Ruth photos is incredible. Some terrific Ruth photos routinely sell in the $4,000-$7,000 range. These photos are usually the smaller type photos, maybe photo postcards or 5x7's. However, according to market reports, a Ruth photo that will be offered this summer could easily break the $100,000 mark. Many other Ruth photos, of larger size or unique quality, have sold for $15,000 and up. People are paying for quality.
Game-used bats is yet another area where market maturity is occurring. Here are just a few price comparisons. These prices were obtained from individual sales from the last year.
| | | |
| --- | --- | --- |
| Player | Bat/Price | Bat/Price |
| Mark McGwire | 1991 A's gamer = $1800 | 1998 Cardinal gamer w/auto = $12,000 |
| Mickey Mantle | 1960's gamer = $10,000 | 1950's gamer w/auto = $30,000 |
| Willie Mays | Late 60's gamer = $3,200 | Early 60's gamer w/auto = $10,000 |
| Mike Schmidt | 1980's gamer = $500 | 1980's home run bat = $7,000 |
| Jimmie Foxx | 1934-42 gamer = $11,000 | 1920's vault marked gamer = $24,000 |
| Lou Gehrig | 1930's gamer = $37,500 | 1920's side written gamer = $75,000 |
As you can see, collectors are clearly paying for the best quality and the premiums seem to be increasing. Memorabilia still has a long way to go in terms of market maturity but that is the good news. If the market continues to mature, similarly to the card market, current market prices may be a bargain. We might look back a few years from now and laugh at how cheap some of these items were, much like collectors are doing now with mint 1960's baseball cards. Only time will tell if the memorabilia market will continue to climb, but when you think about, it certainly seems as if there might be a great deal of potential.