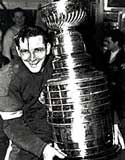 On Collecting Sid Abel...
Most hockey fans know that Gordie Howe and Ted Lindsay were members of the Detroit Red Wings' notorious Production Line, but most don't remember the third member, Sid Abel, the backbone and inspiration for the championship team. The three players were so hot during the 1949-50 season, that they finished 1-2-3 in scoring. Lindsay (78 points) finished first, Abel (69) second, and then rising star Howe was third with 68 points.
When collectors think of Sid Abel, they think of the 1951-52 Parkhurst sportscard sets, the most valuable of all hockey card sets. Abel's card #64, one of the rarest of the set, has only been seen for grading less than a dozen times by PSA. A Mint 10 Abel would be valued at $325, however nothing above a NM MT 8 has been graded up to this point (NM MT 8 is valued at $160 in the February Sports Market Report), of which only 3 in that condition have ever been submitted.
If a collector managed to put together a complete '51-52 Parkhurst set in NM MT 8, it would be currently valued at $24,070. If the next to impossible feat of amassing a complete Mint 9 condition set, it would probably be able to sell at auction for more than the $47,050 current SMR value because of its rarity and the near impossibility of finding a set from that era in such pristine condition. Not that it couldn't be done, it just hasn't happened up to now.

Fans Saddened by Abel's Death
Red Wings and vintage hockey fans were saddened this week, when it was learned that Abel had died at age 81, Monday night or early Tuesday morning. Hall of famer Abel, nicknamed "Old Bootnose," left behind a legacy of leadership and powerhouse playing.
His leadership ability is credited as the principal reason Detroit won the Staley Cup in 1943, 1950, 1952. In 1949 and 1950, Able was named to the First Team All Star at center, making him the first player to be named to the all stars for two different positions (Second Team All Star at left wing, 1942. Abel was also league MVP in 1949, winning the Hart Trophy.
When he was released from the Red Wings during the 1952-53 season, he signed on with the Chicago Black Hawks as a playing coach. The Black Hawks, having finished last in the previous five seasons went all the way to the semi-finals to face the powerful Canadiens. They played to seven games before the Canadiens eventually triumphed, but is was one of the most dramatic come-back seasons hockey has ever seen.
Abel returned to Detroit in 1958 as coach, becoming GM in 1963. He led the Red Wings until 1971, when he decided to coach St. Louis. The siren call of his beloved Detroit claimed him once again, and he returned in 1976-77 as an analyst on the Red Wings' team radio and television broadcasts. His last season as the Detroit media hockey expert was in 1985-86.