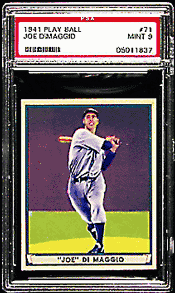 A prize 1941 Play Ball Joe DiMaggio card, graded Mint 9 by PSA, will be offered in Superior Sports Auction's July 28 and 29 auction. This ultra-rarity of "Joltin'" Joe in his famous follow-through batting pose, one of the two or three finest examples known to exist, is expected to realize $70,000-$100,000.
This extraordinary DiMaggio is from the finest 1941 Play Ball set in existence, also to be auctioned. The classic, full-color issue is one of the most popular sportscard sets ever produced. Superior Sports is offering a near-set of 68 of these beautiful, important cards.
Five remarkable letters written and signed by Jackie Robinson highlight the auction's memorabilia. Robinson is widely credited for playing a pivotal role in the breakdown of racial barriers in athletics. These handwritten letters are part of a correspondence between Robinson and Bob Campbell, a bookstore owner Robinson befriended in UCLA days. They detail Robinson's views on baseball and racism, and provide a unique glimpse into Robinson's personal life and American history.
Also destined to generate excitement is a sports collector's dream - a PSA Mint 9 1951 Bowman Mickey Mantle rookie card. Mantle was arguably baseball's brightest star of the 50s and 60s. This coveted card, of world-class importance, is projected to sell for $60,000-$80,000.
High on the impressive list of auction stunners is an extremely rare PSA Mint 9 1933 Goudey Babe Ruth card, which is estimated to bring in $50,000-$70,000. The 1933 Goudey set is one of the hobby's most sought-after, with Ruth's cards leading the way.
"In my 20 years of dealing in rare and valuable sportscards, I can honestly say that this is unequivocally one of the 10 best cards I ever seen...combining rarity, importance desirability, eye-appeal and of course condition," said Greg Bussineau, Superior Sports Auction President.
A PSA Mint 9 1934 Goudey Lou Gehrig card is another incredibly desired item in Superior's auction. This card is one of only two known to exist in pristine condition and is expected to realize $50,000-$60,000.
Other auction stand-outs include a spectacular 1969 Topps Super complete set (highlighted by PSA Gem Mint 10 Reggie Jackson, Mickey Mantle and Hank Aaron cards); a NM-MT 8 1951 Bowman Mickey Mantle; NM-MT 8 1952 Topps Mickey Mantle, Jackie Robinson, and Ed Mathews cards; an original baseball signed by Babe Ruth and Lou Gehrig strongly and distinctly; several important New York Yankee Championship team-signed balls including 1937; and an exceptional selection of other baseball, basketball, hockey and football cards and memorabilia.
"This auction is a once-in-a-lifetime opportunity for sports collectors to acquire individual pieces that are rarely, if ever, offered for public sale," says Superior's Director of Auctions Chris Porter.
The catalog for the Superior Sports Auctions "Collectors Dream" telephone, mail and fax bid auction, featuring 948 lots, will be available July 13. To obtain a catalog or more information call 616-922-9862, e-mail [email protected] or select Superior Sports Auctions from the list of Collectors Universe Premium Auctions.